Zjq 300-30-55 Heavy Duty Submersible Dredging Sand Pump
Product Description
Model NO.: ZJQ300-30-55 Max.Capacity: >400 L/min Material: High Chrome A05 Assembly: Liquid Pumps Start Up: Electric Pump Application:
Slurry Pump
Media: Mud Pump Theory:
Centrifugal Pump
Pump Type: Submersible Centrifugal
Slurry Pumps
Capacity: 25-2000m3/H Trademark: Naipu Or OEM Specification: CE, ISO, SGS HS Code: 8413709990 Max.Head: 30-50m Driving Type: Motor Structure: Single-stage Pump Power: Electric Type: Positive-Displacement Pump Industry: Mechanical Pump Performance: Wear Pump Name: Zjq
Submersible Slurry Pump
Discharge Size: 80-400mm Head: 12-60m Transport Package: Packed with Wooden Box or as Customer′s Request Origin: Shijiazhuang, China Zjq 300-30-55 Slurry Submersible Sand
Dredging Pump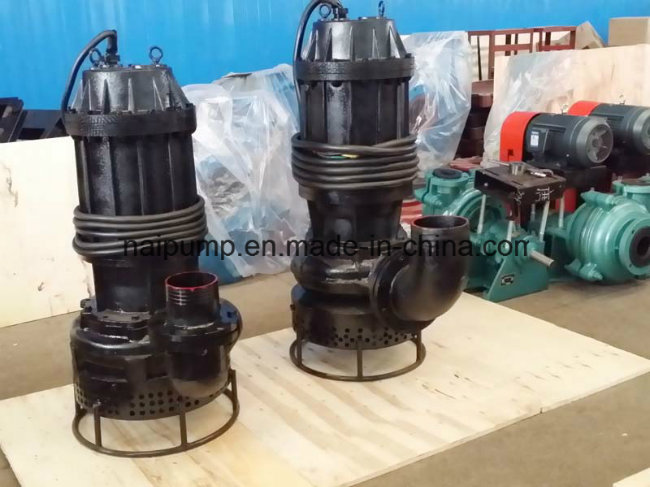 Description
Naipu® NP-ZJQ submersible Slurry motor pump is a kind of hydraulic mechanism which motor connects directly with pump. The pump adopts excellent material, advanced structure, and it is with wide flowing passage & strong delivery ability. The hydraulic parts are wear-resistant. The pump is yet completed with control unit. The pump set consists of main impeller and vice impeller. The main impeller is used for absorbing and delivering solid-liquid mixture, the vice impeller is used for spraying or stirring solid-liquid mixture to help the impeller delivering. 
Typical Applications---
Delivering Liquid Sand, Coal Cinder Solid
Clearing The Mud In Lake, River, Sea
Dredging Widening Channel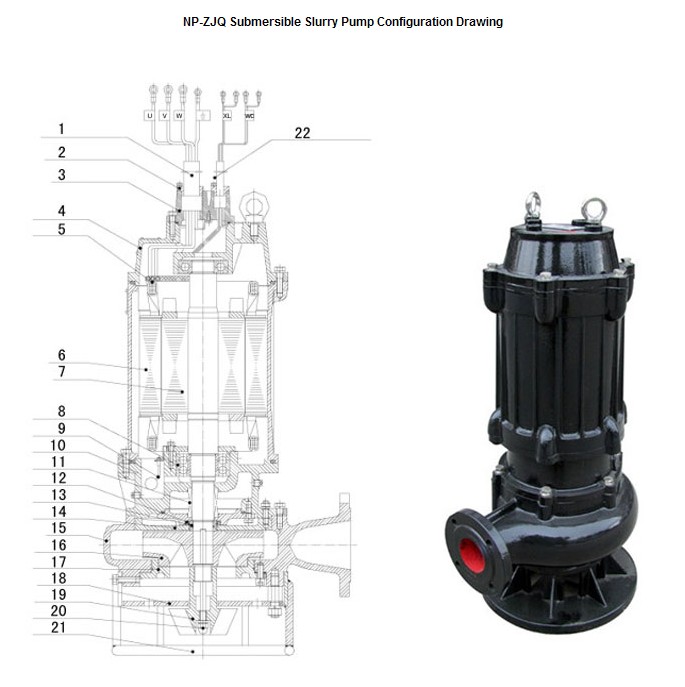 1. Power Cable 12. Oil Sealing
2. Cable Cover 13. Spacer Sleeve
3. Cable Seat 14. Casing Cover
4. Motor Cover 15. Casing
5. Thermal Sensor 16. Impeller
6. Stator 17. Wear Ring
7. Rotor 18. Strainer
8. Lower Bearing 19. Agitator
9. Float Switch 20. Impeller Cap
10. Oil Chamber 21. Base Plate
11. Mechanical Seal 22. Control Cable
Submersible  Dredging
Sand Pump
 Specification:
ZJQ Performance Parameter

 

NO.

Model

Outlet  mm

Flow m3/h

Head




    m

Power     kW

η    (%)

Speed   r/min

 Max Solid passing




 mm

weight  kg

1

ZJQ10-20-3

50

10

20

3

37

1460

8

110

2

ZJQ15-18-3

50

15

18

3

46

1460

8

110

3

ZJQ20-15-3

50

20

15

3

52

1460

8

110

4

ZJQ25-12-3

50

25

12

3

58

1460

8

110

5

ZJQ30-12-3

65

30

12

3

60

1460

8

110

6

ZJQ35-10-3

65

35

10

3

64

1460

8

110

7

ZJQ40-8-3

65

40

8

3

66

1460

8

110

8

ZJQ15-22-4

50

15

22

4

43

1460

10

113

9

ZJQ18-20-4

50

18

20

4

46

1460

10

113

10

ZJQ20-18-4

50

20

18

4

50

1460

10

113

11

ZJQ25-20-4

50

25

20

4

52

1460

10

113

12

ZJQ30-16-4

65

30

16

4

52

1460

10

113

13

ZJQ35-15-4

65

35

15

4

60

1460

10

113

14

ZJQ40-12-4

65

40

12

4

63

1460

10

113

15

ZJQ45-10-4

65

45

10

4

66

1460

10

113

16

ZJQ20-30-5.5

80

20

30

5.5

42

1460

13

205

17

ZJQ30-20-5.5

80

30

20

5.5

54

1460

13

205

18

ZJQ45-15-5.5

80

45

15

5.5

41

1460

13

205

19

ZJQ15-20-5.5

80

15

20

5.5

33

1460

13

205

20

ZJQ50-10-5.5

80

50

10

5.5

44

1460

13

205

21

ZJQ15-20-7.5

80

15

20

7.5

34

1460

13

210

22

ZJQ20-25-7.5

80

20

25

7.5

35

1460

13

210

23

ZJQ25-20-7.5

80

25

20

7.5

36

1460

13

210

24

ZJQ25-30-7.5

80

25

30

7.5

36

1460

13

210

25

ZJQ30-30-7.5

80

30

30

7.5

37

1460

13

210

26

ZJQ32-20-7.5

80

32

20

7.5

37

1460

13

210

27

ZJQ45-15-7.5

80

45

15

7.5

41

1460

13

210

28

ZJQ100-10-7.5

100

100

10

7.5

48

1460

21

220

29

ZJQ25-40-11

80

25

40

11

36

1460

13

300

30

ZJQ40-25-11

80

40

25

11

38

1460

13

240

31

ZJQ50-21-11

80

50

21

11

40

1460

13

240

32

ZJQ50-26-11

80

50

26

11

40

1460

13

240

33

ZJQ70-20-11

80

70

20

11

43

1460

13

240

34

ZJQ100-18-11

100

100

18

11

48

1460

21

240

35

ZJQ25-40-15

80

25

40

15

37

1460

13

330

36

ZJQ50-26-15

80

50

26

15

40

1460

13

260

37

ZJQ50-28-15

80

50

28

15

40

1460

13

260

38

ZJQ60-30-15

100

60

30

15

41

1460

13

265

39

ZJQ70-24-15

80

70

24

15

42

1460

13

260

40

ZJQ75-25-15

100

75

25

15

43

1460

13

260

41

ZJQ100-18-15

100

100

18

15

49

1460

21

270

42

ZJQ150-15-15

100

150

15

15

51

1460

21

270

43

ZJQ150-18-18.5

150

150

18

18.5

49

980

32

550

44

ZJQ200-12-18.5

150

200

12

18.5

53

980

45

550

45

ZJQ150-22-22

150

150

22